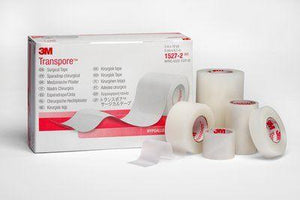 Transpore™ Surgical Tape, Plastic, Transparent
Easy to use, even with the use of gloves, this tape can easily be torn into thin strips to allow for better visualization of the skin.
Easy, straight, bi-directional tear
Porous for breathability
Easy to handle with gloves
Transparent, porous
Hypoallergenic and not made with natural rubber latex
Water resistant
Allows clinician to tailor the tape for the various dressings and devices
Economical single use rolls
A latex-free, hypoallergenic, transparent and perforated plastic tape that offers strong adhesion. Transpore tape is easy to tear into very thin strips, and is easy to use even with gloves
Transparent, perforated plastic tape that tears easily, works reliably.
Suggested Applications
Securing tubing and devices (e.g., catheters, I.V. tubing)
Anchoring bulky dressings
When tape width must be customized