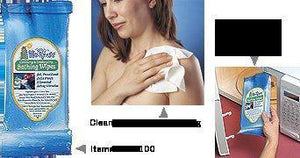 No-Rinse® Bathing Wipes
No-Rinse® products are designed for a variety of applications: convalescence, home health care, seniors, the physically challenged, travelers, campers, water short environments, children and just for everyday convenience.
No-Rinse® is ideal for any situation where traditional bathing is difficult or inconvenient. Our products are gentle and even users with sensitive skin find No-Rinse® products to be non-irritating, even with frequent use.
Users of No-Rinse® are delighted with the cleanliness and convenience our products offer.
Bathing Wipes
•Soft pre-moistened cloths provide a convenient bathing alternative
•Hypoallergenic and latex free
•Aloe vera and vitamin E enriched
•Alcohol free
•8 disposable wipes per package
•Bag package is resealable
NOTE: All prices on this web site are subject to change without notice. BC Medequip Home Health Care Ltd shall have the right to refuse or cancel any orders placed for product listed at the incorrect price.