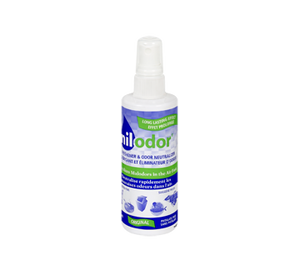 Nilodor Air Freshener and Odor Neutralizer, 114 ml
Nilodor spray mist odor counteractant is a multipurpose deodorizer specially formulated to eliminate odors fast while leaving the air smelling clean and fresh.
Neutralizes Malodors in the Air Fast. The long lasting power of Nilodor will be appreciated anywhere in the house especially in the kitchens, bathrooms, trash receptacles, closets, nurseries, air filters, litter boxes, pet cages/clothes/carriers and in smoked or freshly painted areas.
also effective away from home for car interiors, lockers/sportswear gear, cottages, camping gear, boats.