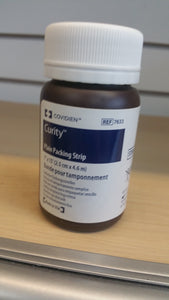 Curity™ Packing Strip, Plain
Covidien 7633 Curity Plain Packing Strips is a wound packing gauze made with cotton and is ideal for packing against a several types of wound beds.
Even though this specific gauze is plain, users can soak it in any antibacterial fluids in order to assist with healing inside the wound. Because it's made with 100 percent cotton, the gauze is able to take in a high amount of exudate.
The gauze measures one inch wide and offers 15 feet of length to work with. Due to its length, users can either cut it down to suit their needs or use it for packing against larger wound beds. The strips are individually packaged for sterility.
Features:
Made with Cotton for Exudate Lift
Can be Soaked for Better Healing
Cotton Material is Ideal for Packing
Able to Take in a High Amount of Exudate
15 Feet in Length for Optimal Usage
Can be Trimmed to Fit the User's Needs
Specifications:
Manufacturer:

 

Covidien
Material: 100 Percent Cotton
Dimensions: 1 Inch x 5 Yards (15 Feet)
Type of Strip: Plain Packing
Sterile: Yes
Latex Free: Yes