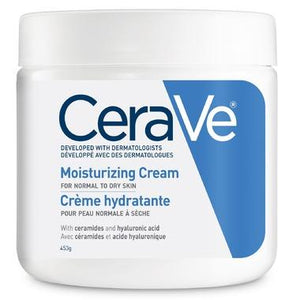 CERAVE Moisturizing Cream
Like CeraVe® Moisturizing Lotion, CeraVe® Moisturizing Cream provides all-day moisturization with a single application and is clinically proven to increase skin hydration.

CeraVe® Moisturizing Cream 453gm is recognized by the Canadian Dermatology Association's Skin Health Program, recommended by the Dermatology Review Panel and accepted by the Eczema Society of Canada.

CeraVe® Moisturizing Cream increases the skin's ability to attract, hold and distribute moisture. It penetrates deeply into the layers of the stratum corneum (the skin barrier) to restore the balance of lipids that are essential for an effective skin barrier. CeraVe® Moisturizing Cream also forms a protective layer over the skin's surface to help prevent moisture loss.
Ingredients: (alphabetical order)

BEHENTRIMONIUM METHOSULFATE AND CETEAYL ALCOHOL
CAPRYLIC/CAPRIC TRIGLYCERIDE
CARBOMER
CERAMIDE 1
CERAMIDE 3
CERAMIDE 6-II
CETEARETH-20 AND CETEARYL ALCOHOL
CETYL ALCOHOL
CHOLESTEROL
DIMETHICONE
DIPOTASSIUM PHOSPHATE
DISODIUM EDTA
GLYCERIN
HYALURONIC ACID
METHYLPARABEN
PETROLATUM
PHENOXYETHANOL
PHYTOSPHINGOSINE
POTASSIUM PHOSPHATE
PROPYLPARABEN
PURIFIED WATER
SODIUM LAUROYL LACTYLATE
XANTHAN GUM