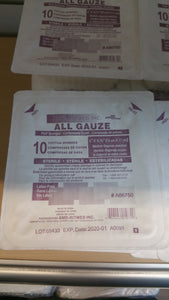 All Gauze AMD-Medicom Fluff Sponge
ALL-GAUZE A66750 Fluff Sponge is a highly absorbent primary dressing with softness and bulkiness that surrounds, protects and cushions the wound site.
Krimped weave construction with a diamond fold shape that offers cushioning and additional coverage of the wound. Sterile - available in formed plastic trays or pouches. Made of the highest quality fluff dried absorbent cotton.
Features:
Sterile
10 sponges per tray
6″x6.75″(15cm x 17cm)
Latex-free
Cotton sponges