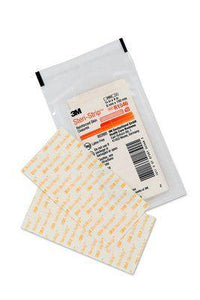 Steri-Strip™ Reinforced Adhesive Skin Closures 3M™
Used in the treatment of lacerations, surgical incisions and wound support following early suture/staple removals.
Features:
Provides wound support and increases the tensile strength of the wound compared to sutures (Reference on file)
Enhances patient comfort and less chance of infection than with sutures or staples
Fast application
Comfortable to wear.
Hypoallergenic and reduces likelihood of skin irritation.
Easy to apply – Fast application
Steri-Strip™ R1546 Adhesive Skin Closures (Reinforced), 10 strips/envelope, Strip Size: 6.4mmx100mm, 50 Envelope/Box, 4 Boxes/Case
3M™ Steri-Strip™ Reinforced Skin Closure Strips is theoriginal skin closure strip with microporous non-woven material designed to let the skin 'breathe' and reinforced filaments for added strength. A pressue sensitive hypoallergenic adhesive.
Suggested Applications
Known for their versatility, Steri-Strip Reinforced Skin Closures are used in the closure of lacerations, surgical incisions and following early suture/staple removal.
For use in: Emergency Department, Operating Room, clinics and physician's offices, and same day surgery centers