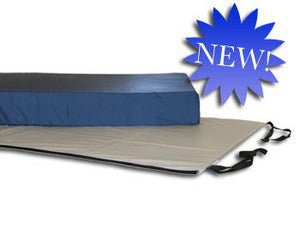 Rental Mattress base protector
Starting at $40/month — Extra charges for delivery and pick up
Mandatory on certain bed rentals
The MBP 500 Mattress Base Protector addresses the need for additional protection for mattresses that rest on a wire-spring or slat-deck bed frame.
The MBP 500 pad will prolong the lifespan of a mattress by alleviating hammocking of the mattress and preventing damage to the base caused by sharp wire indentations.
Features and Benefits: 
Designed to provide an adequate support base for a foam mattress that rests on a wire-spring or slat-deck bed frame
• Helps achieve the maximum lifespan of the mattress
• Reinforced vinyl cover • Corner ties included to prevent slipping Standard Sizes:
• 3/4" x 35" x 78"
NOTE: All prices on this web site are subject to change without notice. BC Medequip Home Health Care Ltd shall have the right to refuse or cancel any orders placed for product listed at the incorrect price.