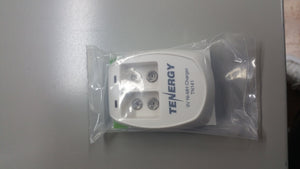 Tenergy 2-Bay 9V Ni-MH Charger TN141- Please call for Pricing
Tenergy TN141 is dual channel (the two bays run independent of each other) and is built for Ni-MH batteries. Simple red/green state indication is used to mark a charging battery (red) and charged battery (green).
Charger Input: 100-240V AC @ 50-60Hz
Battery Charging Output: 11.4V @ 100mA (each bay)
* Charging levels not actually specified, likely adapted based on battery chemistry and size.
Length: 6.0 cm
Width: 8.0 cm
Height: 2.3 cm
Weight w/o Batteries: 60g
Operating Temperature: 0°C ~ 40°C
Operating Humidity: 10% ~ 90%
Storage Conditions: 20°C ~ 80°C
Storage Humidity: < 85%
Features:
Safety Timer - Charging stops at 5 hrs if complete charge has not been detected.
Delta V Cut Off - Detects when a Ni-MH battery has reached full charge.
Reverse Polarity and Short Circuit Protection - Physical reverse polarity protection.
Bad Battery Detection - Batteries that have been damaged during use or have reached end of life.
Ni-MH Compatibility - Will charge both 7.2V and 8.4V Ni-MH 9V batteries.
World Wide Power Compatibility - 100V - 240V AC input accepted.
Operation Instructions:
1) Insert 1 or 2 Ni-MH 9V battery(ies) into the charger - ensure batteries are inserted in the correct direction for polarity.
2) Plug the charger into a household electrical outlet. The LED(s) will light up in red to beginning of operation.
3) Monitor the batteries, remove a battery when the LED for that bay is flashing red or is constant green.
LED Indications:
Off - Charger not plugged in or no battery in the bay.
Red, Constant - Battery in that bay is charging.
Green, Constant - Battery in that bay has completed charge (either by Delta V detection or 5 hr timer).
Red, Flashing - Battery in that bay has an issue, unplug the charger and remove the battery.
Possible Issues:
- Short Circuit : Check the bay and battery for debris connecting the terminal points. Check the battery for damage.
- Reverse Polarity : Check that the terminal points of the battery are connected to the terminal points in the charger correctly. The narrow terminal goes inside the wider terminal of the other component.
- Faulty Battery : The battery may have been over-discharged or other wise internally damaged from use. The battery may have also reached end of life (usually over 300 cycles, potentially up to 1000 cycles).
NOTE: All prices on this web site are subject to change without notice. BC Medequip Home Health Care  Ltd shall have the right to refuse or cancel any orders placed for product listed at the incorrect price.