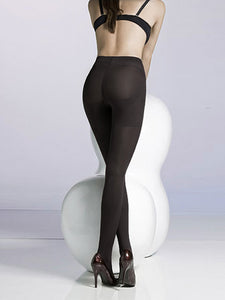 Scala Slimming Opaque Tights
– Reduces the appearance of cellulite in just 30-60 days
– Breaks down fat cells and tones the skin
– Slims waist, tummy, thighs and legs
– Very easy to wear under other clothing
Scala Tights reduce the appearance cellulite and the waistline and are the only shapewear brand with documented proven effect. In an independent university study from 2009, 80% of women who participated noticed significant reduction of cellulite and waist and thigh measurements after just 30 days.
– Scala underwear reduces the appearance of cellulite and the waistline.
– For best results, you should wear your Scala underwear 6-8 hours a day for 30-60 days.
– The effect is long-lasting – generally 4-8 months.
– The active, integrated Bio-Crystals stimulate the skin and improve blood flow.
– The Bio-Crystals are knitted into the fabric, so the effect does not decline when you wash your Shapewear.
– Made of a light, high-quality fabric, Scala underwear is extremely comfortable.
Choosing Your Size
If you are in between sizes, we recommend that you buy the smaller size (so, if you are in between small and medium, buy a size Small).
Size Guide
– Small: 4-6
– Medium: 8-10
– Large: 12-14
– X-Large: 16-18