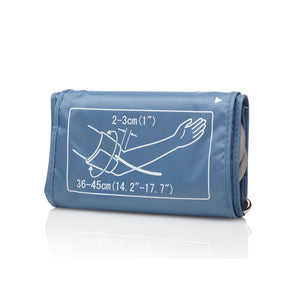 UA-787EJ Replacement Blood Pressure Cuff
Replacement cuff for LifeSource blood pressure monitors, available in two sizes:
Medium: fits 23.8-36 cm (9.4-14.2″) arms
Large: fits 36-44.9 cm (14.2-17.7″) arms
Description
Take your blood pressure at home quickly and confidently with the latex free blood pressure cuff from A&D Medical.  The cuff is designed to conform to your arm to make it as comfortable as possible when you measure your BP.  The A&D Medical blood pressure cuffs are durable and come with a 2 year warranty.
Using the correct size cuff is important for an accurate reading. A cuff that is too large will produce a reading that is lower than the correct blood pressure; a cuff that is too small yields a measurement that is higher. With your arm hanging at the side of your body, measure the circumference of your upper arm at the midpoint between the shoulder and elbow.